Commercial HVAC Services in Lubbock, TX, and Surrounding Areas
Your commercial HVAC system is a workhorse that powers through demanding weather to keep your building comfortable. Breakdowns cannot occur when your business depends on heating and air conditioning. That's where we can help.
Our NATE-certified technicians develop maintenance plans that deliver maximum benefits while controlling your expenditures. You can achieve greater reliability and improve your bottom line by reducing your energy use. Let's work together to maximize your building's efficiency. You'll notice the savings on the bottom line.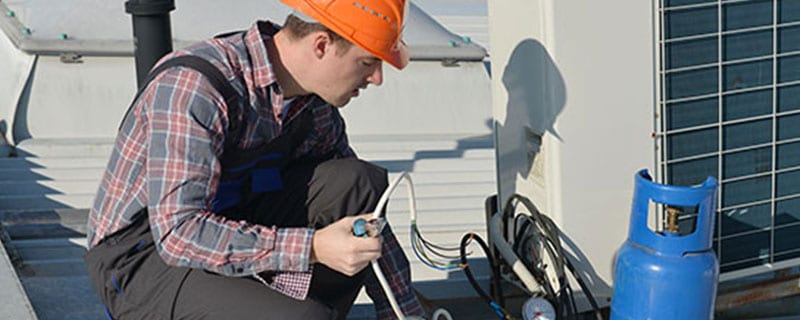 Commercial AC Maintenance for Chillers and Rooftop Units
Commercial heating and air conditioning systems rely on over 100 components working synchronously. As individual parts wear out, the unit's efficiency decreases. We maintain heating and cooling systems down to the smallest nuts and bolts, because each one matters.
Duncan Heating & Air Conditioning, Inc. & Plumbing uses a combination of preventive and predictive maintenance. We follow manufacturers' recommendations, but we tailor them to your HVAC system. This reduces downtime by 40 percent, cuts maintenance costs by 30 percent and prevents 75 percent of breakdowns.
These benefits deliver a 10-fold return on investment according to the Federal Energy Management Program. We focus on maintenance services that offer maximum financial advantages to businesses in Lubbock, TX.
Adjusting the refrigerant in your rooftop AC equipment lowers your energy bills by 5 to 11 percent.
Balancing the airflow in your commercial cooling system can cut your energy bills by 10 percent.
Economizers allow rooftop AC units to cool your building with outside air. Failing economizers drive your energy bills up by 15 percent or more.
Centrifugal chillers benefit from descaling treatments. Microbes and mineral deposits slow the heat exchange rate by 15 percent.
Cleaning clogged condenser valves improve the heat transfer rate in centrifugal chillers.
During scheduled downtime, we test for air leaks that decrease the chiller's cooling capacity. A 1-psi leak decreases the system's efficiency by 5 percent.
Lubricating oils that infiltrate refrigerants impair the system's performance. For every 1 percent of oil in the refrigerant, your chiller loses 2 percent of its efficiency.
Commercial HVAC Installation and Repairs in Lubbock, TX
We connect customers with reliable commercial-grade HVAC equipment from Carrier and Mitsubishi Electric Heating and Cooling. We design commercial heating, cooling and ventilation systems from the ground up to the roof. Our NATE-certified technicians install and repair the following commercial HVAC systems for customers in Lubbock and surrounding communities:
Air-cooled chillers
Water-cooled chillers
Rooftop packaged units
Direct-expansion (DX) systems
High-capacity air handlers
Active chilled beams
Induction beams
Cooling towers
We are a full-service commercial AC contractor with over 25 years of experience serving businesses in the Lubbock area. Our goal is to help property owners and building managers earn unrivaled dependability and performance from their HVAC systems.
Commercial HVAC Contractors in Lubbock, TX
For assistance with commercial AC installation, maintenance or repairs, get in touch with us. Our technicians will assess your heating, cooling and ventilation system and develop a customized maintenance plan that benefits your business.